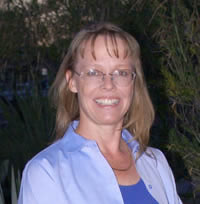 Art has always been a part of Lynne's life. Her very creative parents made sure that she was exposed to different forms of art from early on. That gave her an open path to explore her creativity.
Lynne has a Bachelor of Fine Arts in Graphic Design from California College of Arts and Crafts and is the owner of Lynne M East Graphic Design Studio, Many Hands Artist Cooperative and Blue Raven Art School. In recent years she has been applying her design expertise to gourd art.
Lynne started working with coyote gourds that were growing wild in her yard by painting them for Christmas ornaments. Having learned many new techniques she now creates pieces unlike any others. Lynne enjoys combining media and often adds metal art to her pieces.
The view from her studio is inspirational as it looks out to her garden full of flowers, vines, herbs and vegetables. Some of the gourds Lynne uses she has grown in her garden.
Lynne has won many awards for her gourd art. She has been juried into shows at the Mountain Artists Guild Gallery in Prescott, Arizona, the Blue Raven Gallery in Tucson, Arizona as well as the Arizona Art Alliance Gallery in Scottsdale through the Arizona Designer Craftsmen.
Lynne and her husband live in Tucson with their dog and cat.